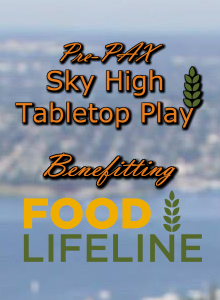 Second Annual Pre-PAX Sky High Tabletop Play Benefiting Food Lifeline
Columbia Tower Club
701 5th Ave 76th Floor, Seattle, WA, 98104
Thursday, August 28, 2014 5:00 pm until 2:00 am
Organized by: Dawgsled Events (Contact)
Event Description
Who: Hopefully you, along with 249 of your closest friends or soon-to-be friends, ages 21+

What: Back for another year! This is not just another board game party! Featuring thousands of dollars in prizes from the gaming and food industry, life-sized versions of some of your favorite games, food, drinks and the chance to match wits with some of the nation's best game designers, this is THE party to be at on the night before PAX! Every cent - that's EVERY. RED. CENT. - that we raise on this evening (beyond the costs of producing the event) will be donated to Food Lifeline. Rated by Charity Navigator as 4-star charity, they provide food for homeless people in Western Washington and across the nation. Oh, and it takes place in a swanky private club atop the tallest building in Seattle.

When: Thursday, August 28th, 5:00 pm - 2:00 am

Where: Columbia Tower Club, 76th floor, downtown Seattle

Why: Because you're like us - you like to game. Because you want to kick off PAX in style. Because you'd like a tasty alcoholic beverage and a supplied meal whilst you play your games. Because you're bringing an S/O whom you would like to dazzle with the most stunning views imaginable (or to at least distract them long enough for you to play). Because you're traveling and want to go someplace special. And, most importantly, because you'd like to do all of this whilst supporting a fantastic charity - and getting a tax write-off in the process. That's a lot of wins in one package.

What's included in all ticket levels:
Up to 249 other people to game with
A game library that you can borrow from (feel free to BYOG, as well)
Dinner
Full (cash) bar access
Guaranteed seating! We will have more than enough seats for everyone attending, so no waiting to play games.
A pop-up game store (from The Dreaming Comics and Games) to make acquisitions, if you so choose.
A ticket-based drawing, with prizes including gift cards to many of Seattle's best restaurants, tabletop games - and, oh yes, PAX badges in case you struck out and want to go.
As all monies spent are going to Food Lifeline, all monies spent are 100% tax deductible.
VIP ticket levels also get:
A swankier plated dinner
Drink vouchers
Free drawing tickets
Private-access gaming rooms, if you so desire
A bigger tax deduction
Gaming Vouchers: The Dreaming Comics and Games will have a pop-up store at the event where you can purchase games! You have the option of purchasing 2 $10 gaming vouchers with your ticket for only an additional $5! What these vouchers allow you to do is take $10 off of any one game priced at $30 or more. We also did this at International TableTop Day, and it was a huge success. Here's the proverbial fine print: Vouchers only have full effect on games costing $30 or more. Vouchers can be used on games priced below $30, but the lowest price a voucher can reduce the price to is $20. For example, a voucher used on a game costing $35 reduces the price to $25. A voucher used on a game costing $30 reduces the price to $20. A voucher used on a game costing $25 reduces the price to $20. A voucher used on a game costing $18 has no effect. Also, you cannot use multiple vouchers on the same game.
More info can be found on our FAQ.
Who Attended
Matt Winberry
Megan Billingsley
Ashley Gilmer
Kristy Gilmer
Derek Hotzel
Richard Gilmer
JD Fraser
Andrew Anderson
Maja Nordrum
Kelly Bullivant
Robert Mitchell
Matthew Titelbaum
Erik Kjerland
Jeffrey Wang
John Hill
Jennifer Educate
Nicole McAllister
Cathy Saxton
Tom Saxton
Gregory Cutcher
Devyn Chikinda
Meaghan Ormrod
Matt Matier
Anthony Pritchard